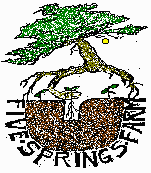 Five Springs Farm is a community supported agriculture (CSA) farm in Northwest lower Michigan.

Contact Casey or Mariah at 231-889-0289 or fivespringsfarmcsa AT gmail.com



Most of the rest of this site is about the previous farmers - Jo Meller and Jim Sluyter - and their Manistee River trip of Fall 2002. Award winning journalist Allison Batdorff authored most of what you will read here.